Meet Our Phillipsburg, NJ Dental Team
Meet Our Caring Dental Team
If the dentists make up the head of a dental office, then the team members are its beating heart – and we're proud to have a very strong heart here at DeMartino Dental Group. Every member of our staff is highly experienced and knowledgeable in their respective positions while also sharing a genuine passion for helping patients feel welcomed and right at home throughout the care process. To learn more about them, keep reading below:
Minerva, Registered Dental Hygienist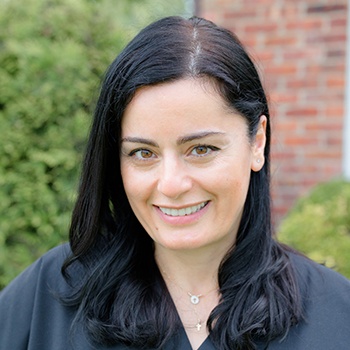 Minerva has been a member of DeMartino Dental Group for two decades and counting. She earned her Associates in Applied Science in Dental Hygiene from Northampton Community College, graduating with honors. She is also trained in digital X-rays, VELscope, DIAGNOdent, and Glo Whitening. Being able to help patients and see their oral health improve over time is her favorite part of this job. She has been married for 25 years and has two children at home. Her hobbies include cooking, exercising and traveling.
One interesting fact about Minerva: She was born and raised in Lebanon!
Peggy, Registered Dental Hygienist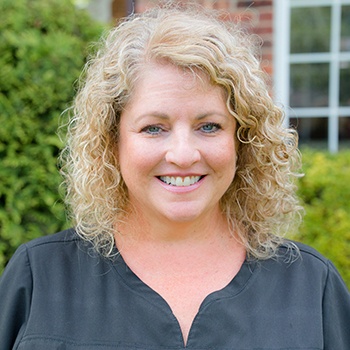 Margaret's career in dentistry spans three decades and counting. Originally from Phillipsburg, she studied at Fairleigh Dickinson University College of Dental Medicine and has advanced training in VELscope, teeth whitening, and BOTOX. Her family consists of her husband, two daughters, and a son. She loves spending her free time with her loved ones, cooking, and attending sporting events.
One interesting fact about Margaret: She actually went to dental hygiene school at FDU when Dr. Garcia and Dr. DeMartino were there, and they used to trade patients back and forth to fulfill clinical requirements!
Allison, Treatment Plan Coordinator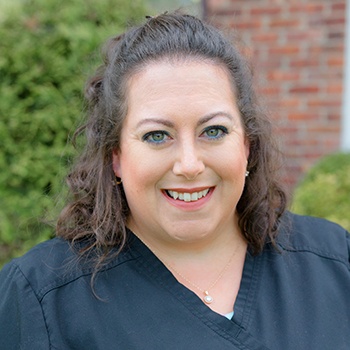 Allison studied at Warren County Community College and has a genuine passion for being able to help patients receive the high-quality care they deserve. Originally from here in Phillipsburg, her career in dentistry spans a decade so far. At home, she has a husband named David and two sons named Nathan and Landon. She and David are very involved in the kids' academics and sports activities outside of work – they're always on the go!
Jane, Dental Assistant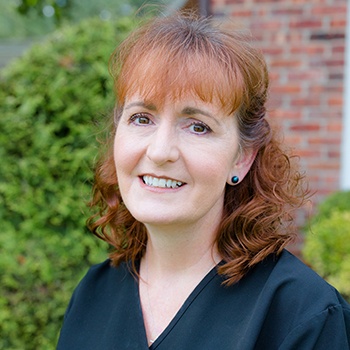 Jane is from here in Phillipsburg and attended Churchman's Business School before enrolling into the dental assistant program at Warren County Community College. She is a CDA and has her certifications in infection control and dental radiology. She loves seeing patients so happy with their smile and helping them experience NO dental pain through her efforts! Outside of the practice, she has one daughter, one son, three step-sons, and six grandchildren. She is an avid reader and knitter, loves camping and the shore, and stays active in her church. She also loves spending time with the grandchildren and her dog.
One interesting fact about Jane: She is the only student in the history of WCCC to get a perfect score on the Dental Radiology final exam!
Rebecca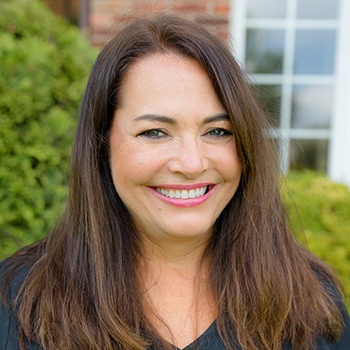 Rebecca has been working in oral healthcare for 25+ years so far, and she loves being able to help our patients and families feel genuinely comfortable. She is originally from Texas and even once worked as a volunteer in the Bergstrom Air Force Base Dental Clinic in Austin. Away from the office, Rebecca is the proud mother of teenage quintuplets – four boys and one girl! She and her husband have been married for nearly 35 years and first met while in the Air Force. They currently live on a farm with lots of animals that keep them very busy. As for personal hobbies, she enjoys hiking with the dogs, cooking/baking, and traveling with her family.