Dental Implants – Phillipsburg, NJ • The Lehigh Valley
Experience State-of-the-Art Tooth Replacement
Missing teeth can damage a person's oral health, negatively impact their personal and professional relationships, and even make it difficult to smile in photos without embarrassment. At DeMartino Dental Group, we want to introduce our patients to a state-of-the-art solution: dental implants. Implants stand apart from the crowd because of their revolutionary, comprehensive structure – they replicate every part of the natural tooth, including the root that's safely hidden beneath the gum tissue. This approach supports the patient's ongoing oral health in addition to their self-confidence. To get started with an initial consultation, contact our Lehigh Valley dental office!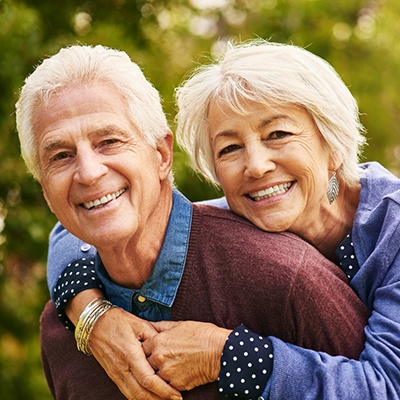 Why Choose DeMartino Dental
for Dental Implants?
Only Practice in The Lehigh Valley Offering Laser-Assisted Implant Placement
Surgical Placement & Restoration in One Convenient Location
Advanced Implant Training at World-Renowned Zimmer Institute
Benefits of Dental Implants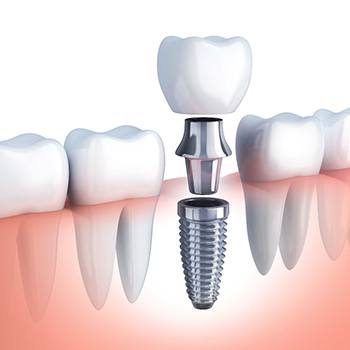 Strengthens Jawbone – Because the implant is placed directly into the jawbone, the tissue will receive the stimulation it needs to remain full and healthy, avoiding deterioration. This is the ideal outcome for the patient's oral health and overall wellbeing!
Seamless Function & Aesthetics – Once in place, implant-retained teeth are virtually indistinguishable from the rest of your natural smile in both look and feel. In fact, it's very likely that no one will even be able to point out which tooth or teeth aren't "real."
No Damage to Surrounding Teeth – While more traditional reconstructive services typically require some negative alteration of healthy dental structure to accommodate their replacement, dental implants are much more conservative.
Exceptional Longevity – Dental implants have a success rate of over 95% and should last for multiple decades. In fact, many patients are able to enjoy their new teeth for the rest of their lives.
Indications for Dental Implants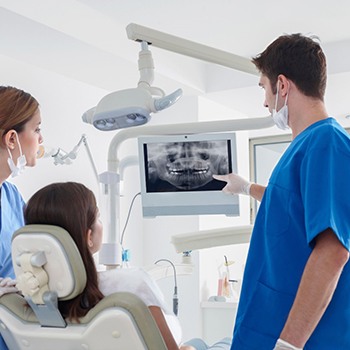 Patients with a wide spectrum of tooth loss can successfully rebuild their smiles through the transformative power of dental implants. Our dentists will custom-design the ideal restoration that looks attractive, feels functional, and is built to last for decades to come.
Missing a Single Tooth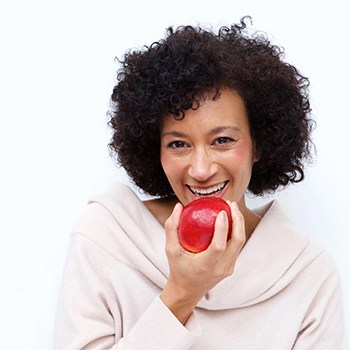 If we're replacing just one tooth with its own personal dental implant, then an all-porcelain crown will be paired with it. Unlike a traditional bridge, the crown won't require any surrounding healthy dental structure to be negatively altered. Instead, it will slip right in between the other teeth and become a virtually seamless part of your confident smile.
Learn More About Single Tooth Implants
Missing Multiple Teeth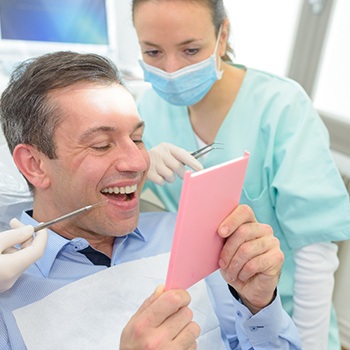 While all-porcelain crowns can also be placed throughout the mouth to restore several implants/missing teeth, a more comprehensive option is implant-retained bridges. This modern style of prosthetic can replenish multiple teeth that once appeared consecutively; we accomplish this by placing two dental implants on either side of the gap to serve as "anchors" that hold the new smile addition safely in place.
Learn More About Implant Retained Bridges
Missing All of Your Teeth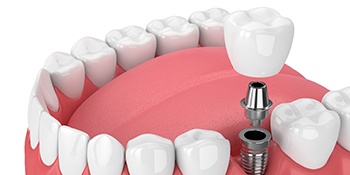 If you have lost all of the teeth along your upper or lower arch, a full implant-retained denture is an excellent choice for replacement. Instead of pairing each individual implant with a unique restoration, we can anchor this prosthetic securely with a small number of strategically located implants throughout the jaw for a final result that is both seamlessly reliable and highly cost-effective.
Learn More About Implant Retained Dentures
Laser-Assisted Implant Placement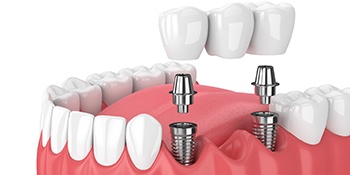 At DeMartino Dental Group, we are proud to be the only practice in the entire Lehigh Valley that provides surgical dental implant placement with state-of-the-art laser dentistry! What exactly does this mean? It's simple – patients won't have to worry about scalpels or sutures at all. Any oral bleeding is dramatically minimized, and healing occurs at a much faster, more comfortable rate. Better yet, we won't have to perform a second surgical procedure to uncover the placed implant, which means that we can place your brand-new implant crown in just three months under normal circumstances.
Learn More About Laser Dentistry
Start-to-Finish Convenience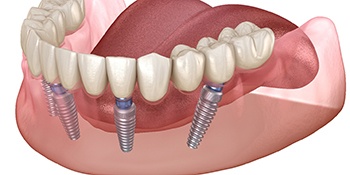 Many general dentistry practices must refer their dental implant patients to separate specialists for the surgical components of their care, resulting in more time-consuming travel and cost. At DeMartino Dental Group, our dentists have the advanced training and state-of-the-art technology needed to smoothly carry out every stage of implant reconstruction right here in one convenient location. This means that our valued patients always feel comfortable and right at home as they work towards the confident, recompleted smile they deserve.
Understanding the Cost of Dental Implants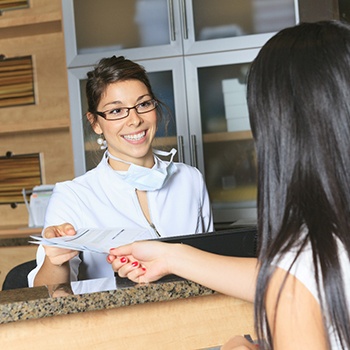 Every patient's tooth replacement needs are different, and dental implants are a multi-step service with several different components involved, including the surgical placement of the implant itself, the possible addition of an abutment, and the creation of a custom restoration. Before we can confidently determine the overall cost of your proposed procedure, Dr. DeMartino and Dr. Garcia-DeMartino will need to see you for an in-depth consultation.
We won't beat around the bush – dental implants are a significant financial investment. However, the benefits patients can expect as a result will be more than worth the initial price tag. For instance, while traditional dentures and bridges will likely need to be repaired and replaced over the years, dental implants are designed to succeed for decades or even the rest of the patient's life with only minimal maintenance.